Salarius - An Epigenetic-Focused Oncology Company
Salarius Pharmaceuticals, Inc. (Nasdaq: SLRX) is a newly-trading, emerging oncology company developing targeted therapies to treat pediatric and adult cancers, in particular, advanced solid tumors. Salarius is focused on epigenetic drug development, a field that is receiving increasing attention with several recent clinical successes and additional highly anticipated data readouts occurring in the upcoming year.
Epigenetics refers to the regulatory system that affects gene expression. In some cancers, epigenetic regulators often become dysregulated and incorrectly turn genes on or off leading to cancer progression. Drugs that are able to safely modify the activity of these epigenetic regulators may correct the gene changes that are driving the cancer.
Salarius' lead compound, Seclidemstat (SP-2577), is a reversible inhibitor of lysine specific demethylase 1 (LSD1), an epigenetic regulatory enzyme. LSD1 is an important target in multiple cancer types as it is known to promote disease progression and is often correlated with poor patient prognosis. Seclidemstat is being studied in two ongoing dose escalation/dose expansion clinical trials, a Phase 1/2 Ewing sarcoma clinical trial and a Phase 1 Advanced Solid Tumor trial. Seclidemstat is a well-differentiated LSD1 inhibitor with the potential for increased efficacy and safety compared to other LSD1 inhibitors currently in clinical development. Salarius believes that the increased efficacy of Seclidemstat is due not only to its ability to inhibit LSD1's enzymatic activity (i.e., demethylation), much like other clinical-stage LSD1 inhibitors, but also because Seclidemstat more robustly inhibits LSD1's scaffolding properties. Seclidemstat has a promising safety profile that is potentially derived from its reversible binding, in contrast to molecules from clinical competitors that are irreversible inhibitors of LSD1 and have shown hematologic toxicity not found with Seclidemstat. Salarius is researching and establishing the Seclidemstat safety profile in ongoing clinical studies.
Salarius chose Ewing sarcoma as its first target indication. Ewing sarcoma (ES) is a rare and devastating bone and soft tissue cancer that mostly afflicts adolescents and young adults. ES tumors express high levels of LSD1, making it an attractive indication for a comprehensive LSD1 inhibitor such as Seclidemstat. Salarius is in the dose escalation potion of a Phase 1/2 trial in relapsed/refractory ES patients. Being a rare disease, the ES market is smaller than other indications; however, pursuing drug approval in ES may provide speed-to-market due to the high demand for novel, less toxic drugs for this indication. Additionally, the Food and Drug Administration (FDA) recognizes the tremendous need for ES therapies and has already designated Seclidemstat with Orphan Drug and Rare Pediatric Disease status, the latter which may result in a priority Review Voucher that can be monetized.
While ES provides proof-of-concept and speed-to-market, Salarius is aiming to expand Seclidemstat's potential annual market from ~$400M to +$1B by studying Seclidemstat as a monotherapy and in combination with other approved drugs in larger market indications. Seclidemstat market expansion as a monotherapy is currently being assessed via Salarius' second Phase 1 clinical trial in advanced solid tumors (AST). The AST trial is currently in the dose escalation phase and is enrolling patients with malignancies that include breast, prostate, and ovarian cancers. The second method of increasing Seclidemstat's market is to show that Seclidemstat can sensitize refractory patients to already approved agents. One of the most appealing agents to demonstrate this with would be checkpoint inhibitors. Checkpoint inhibitors are very efficacious in a subset of cancers, but unfortunately remain ineffective in a large portion of patients. Despite this, they presently have a multibillion-dollar market. Therefore, Seclidemstat's value would tremendously increase if it can help sensitize patients to checkpoint inhibitors. Salarius is conducting preclinical work to determine the best approach for potential clinical checkpoint combination studies.
Salarius believes it is well-positioned to reach important milestones in 2020. See below for company highlights: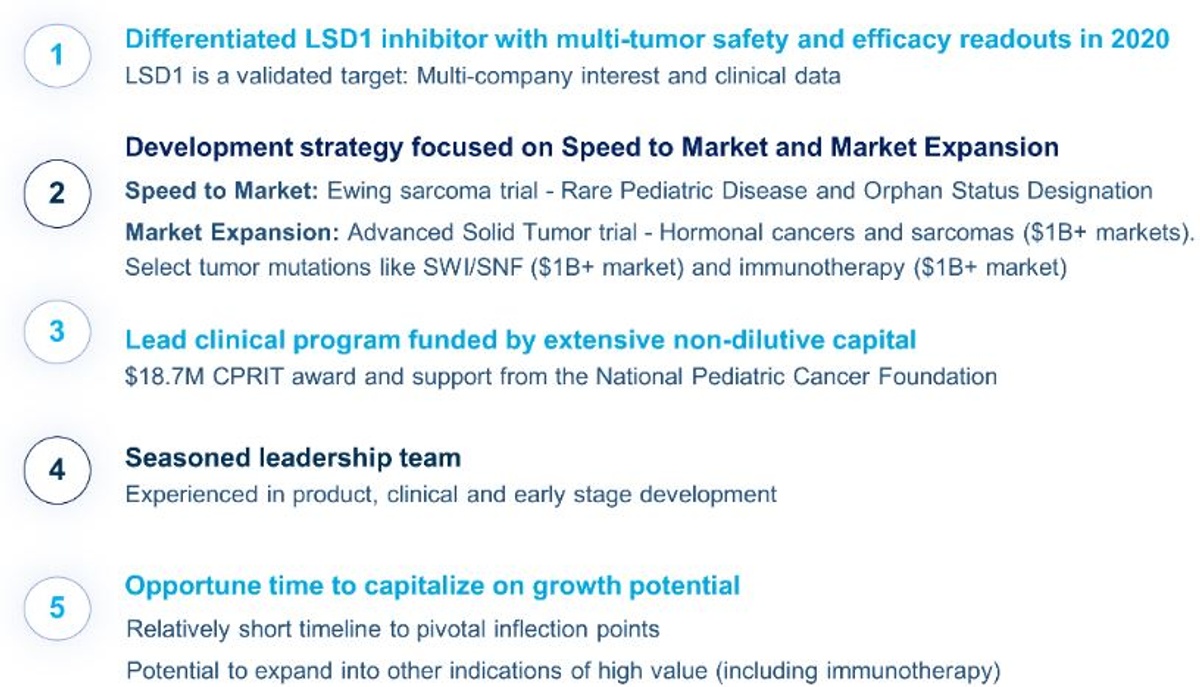 Figure 1. Salarius is an attractive early stage biotech with the possibility of near-term inflection points.
Epigenetics & LSD1 Inhibition
Epigenetics is the study of chromatin modifications that result in activation or repression of gene expression without altering the underlying DNA sequence. These modifications include the placement, detection, and removal of various chemical groups to histone protein tails which changes chromatin structure to a transcription-permissive or -prohibitive state. These modifications are essential for appropriate regulation of gene expression, healthy cell maintenance, and development. In normal cells the modifications are tightly regulated and controlled. However, the epigenetic system can become dysregulated and when it does, it can play a significant pathogenic role in the manifestation of many human diseases, such as cancers. Therefore, development of small molecule drugs that inhibit aberrantly acting enzymes, which may promote epigenetic dysregulation, can be a powerful therapeutic strategy. As such, several large pharmaceutical and biotech companies are developing LSD1 inhibitors for cancer treatment. LSD1 causes epigenetic modifications via its enzymatic and scaffolding properties. Its enzymatic activity acts to remove methyl groups, primarily at lysines 4 and 9 on the tail of histone H3, which influences the closing and opening of DNA and consequently alters gene expression (Figure 2). Its scaffolding properties relate to LSD1's function, independent of its enzymatic activity, as a structural component of larger epigenetic complexes to regulate expression of genes which may result in the onset and progression of cancer.
The pursuit of cancer therapies which target epigenetic modifiers has long been sought after, but presented significant challenges, specificity being the most prominent issue. The first epigenetic drug to gain FDA approval was a pan-inhibitor of DNA Methyltransferases, Vidaza (azacitadine, Celgene) in 2004. From 2004 to 2015 six additional epigenetic targeting drugs were approved, one DNMT inhibitor and five pan-HDAC inhibitors, all for use in hematopoietic malignancies. Epigenetic regulators have surfaced as promising drug targets as they tend to be mutated or over expressed in a diversity of cancer types, correlating with progression and poor prognosis. Technological advances in drug discovery have made specific inhibition more readily attainable; however, appropriate target modulation is key for diminishing treatment-related adverse events.
There are numerous ongoing clinical trials investigating the feasibility of epigenetic drug targets in cancer. Targets including the histone methyl transferase (EZH2), bromodomain containing proteins (BRD4/2/6), and lysine demethylase (LSD1) are attracting much attention. Tazemetostat, an EZH2 inhibitor, has a submitted NDA under FDA review with another NDA submission expected later this year. In addition, Oryzon's LSD1 inhibitor showed promising early clinical readouts in two ongoing Phase 2 trials, validating LSD1 inhibition's clinical impact. As more pre-clinical and clinical data regarding epigenetic targets are generated, the promise of harnessing the epigenome for the treatment of cancer comes more closely into view, with significant value upswing potential.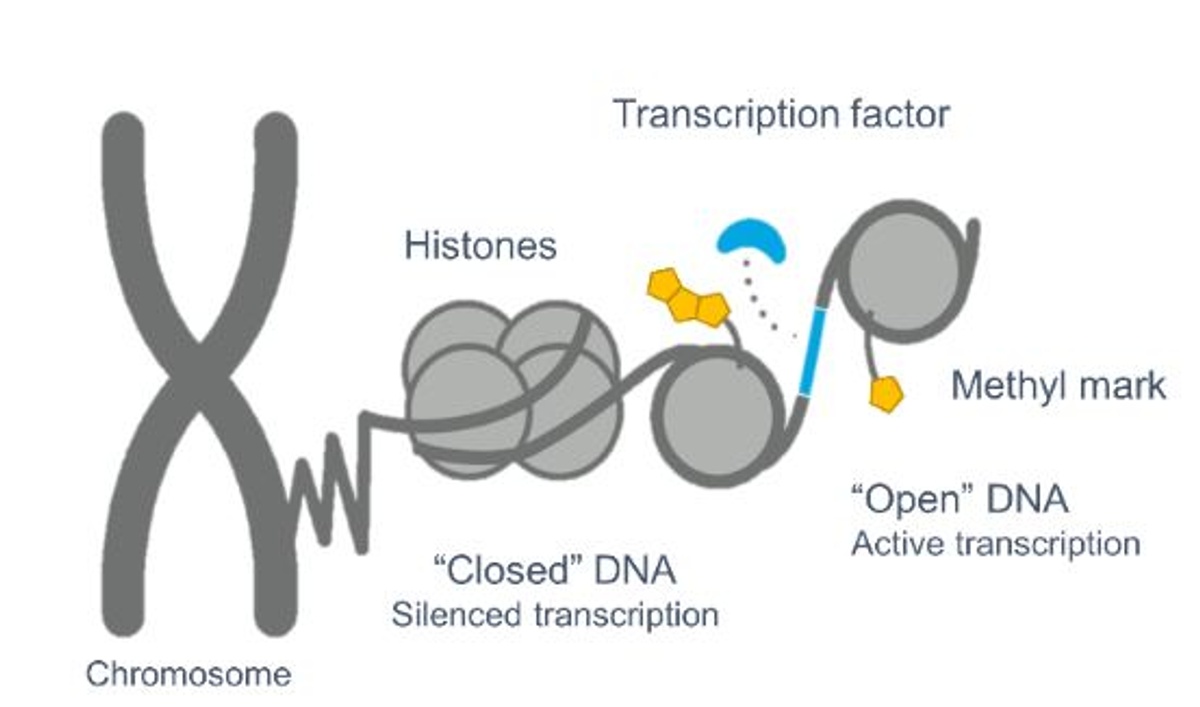 Figure 2. Epigenetic modifications alter the chromatin structure and influence gene expression.
Seclidemstat, A Reversible LSD1 Inhibitor with A Best in Class Approach
Salarius' lead development candidate, Seclidemstat (SP-2577), is a potent, reversible inhibitor of LSD1. Salarius is not the only company developing anti-cancer agents targeting LSD1 inhibition. Several competitors, including Incyte, Oryzon, Celgene, and Imago, have progressed into the clinic with LSD1 inhibitor programs (Figure 3). However, Seclidemstat was developed from a novel scaffold and as a result is highly differentiated from the competition.
Several companies with clinical stage LSD1 inhibitors act at LSD1's catalytic pocket where they covalently bind to the FAD cofactor and inhibit LSD1's enzymatic activity. These inhibitors are irreversible, i.e., once they bind, they remain bound throughout the enzyme's normal life cycle, which may lead to on-target adverse events. Hence, irreversible LSD1 inhibitors (also called catalytic inhibitors) often cause hematological toxicity, such as thrombocytopenia and neutropenia. In fact, GlaxoSmithKline was previously studying an irreversible LSD1 inhibitor in clinic but has since terminated their studies due to a negative risk-benefit assessment, which is believed to be attributed to many patients reporting thrombocytopenia. This adverse effect greatly limited their dosing and therefore likely affected the degree of therapeutic benefit observed.
Another competitor, Oryzon, has an ongoing Phase 2 clinical trial with an irreversible LSD1 inhibitor in combination with 5-azacytadine in elderly AML patients. The combination approach allowed the decrease in LSD1 inhibitor dose needed in Phase 1, and consequently reduced the potential for toxicity. Oryzon has seen encouraging responses, demonstrating that small molecule inhibition of LSD1, when given at tolerable doses, is an attractive therapeutic strategy. However, at least half the patients on trial continue to experience grade 3 and/or 4 hematological toxicity. This illustrates that LSD1 inhibition has the potential to be a clinically active mechanism, and that development of a reversible LSD1 inhibitor which has a potent therapeutic effect while minimizing on-target toxicity could have broad clinical potential.
Seclidemstat is believed to be one of two clinical-stage reversible inhibitors of LSD1 along with Celgene's lead compound, CC-90011, which is currently in Phase 1 clinical trials in small cell lung cancer (NCT03850067) and Non-Hodgkin's Lymphoma and solid tumors (NCT02875223). Interestingly, scanning the LSD1 inhibitor recent preclinical discovery landscape suggests that the majority of LSD1 inhibitors being developed are reversible inhibitors, emphasizing our best in class strategy.
In addition to the desire for LSD1 inhibitors to result in less on-target adverse effects, the necessity of comprehensive inhibition of LSD1 has come into focus. Recent preclinical research suggests that modulation of LSD1's non-enzymatic functions, i.e., scaffolding functions, may be necessary for LSD1 inhibitors to have therapeutic activity in indications in which the irreversible catalytic inhibitors show limited or no efficacy (Hatzi, K. et al., 2019, Sehrawat, A. et al., 2018, Augert, A. et al., 2018).
Celgene's reversible inhibitor, CC-90011, binds to similar regions as the irreversible inhibitors and is predicted to have a similar therapeutic activity as the irreversible inhibitors, i.e., mostly impacting only the enzymatic activity. In contrast, Seclidemstat interacts with a different region of LSD1 which causes it to not only inhibit LSD1's enzymatic activity, but also inhibit more of LSD1's scaffolding properties. Evidence suggests that Seclidemstat's differentiated mechanism of action may play a significant role in its therapeutic activity across a broader range of cancer types, and consequently, its potential for broad clinical impact (Romo-Morales, A. et al., 2019, Sehrawat, A. et al., 2018).
Since its discovery in 2004, LSD1 has been pursued as an attractive target for cancer treatment. Recent clinical data supports LSD1 inhibition as a viable therapeutic strategy. However, the mechanism of action of current clinical LSD1 inhibitors has limited their therapeutic activity to a subset of indications and can cause hematologic toxicity. Seclidemstat improves upon these limitations by more thoroughly inhibiting LSD1's multiple functions in a reversible manner. Consequently, Seclidemstat shows activity across additional indications with the potential for a more favorable safety profile.

Figure 3. LSD1 inhibitors in clinical trials.
Seclidemstat - Encouraging Preclinical Proof-of-Concept
There is a substantial preclinical proof-of-concept for single agent activity of Seclidemstat and its analog, SP-2509, in both solid tumors and hematological malignancies. In addition, preclinical work has shown that Seclidemstat and SP-2509 can help sensitize immune-refractory tumors to checkpoint inhibitors. Examples of preclinical proof-of-concept include:
Studies in Ewing Sarcoma demonstrate that although ES cell lines are resistant to GSK's irreversible inhibitor, they are sensitive to the SP-2509. Treatment with SP-2509 leads to apoptosis, or programmed cell death (Pishas, K. et al., 2018).

LSD1 has recently been shown to be overexpressed in about 60% of clear cell renal cell carcinomas (ccRCC). SP-2509 treatment resulted in growth inhibition of ccRCC both

in vitro

and

in vivo

, along with decreased demethylation of

CDKN1A

resulting in upregulation of the cell cycle arrest protein p21 and arrest in the G1/S phase of the cell cycle (Zhu, L. et al., 2018).

Metastatic prostate cancer is a leading cause of cancer-related deaths with no established cures. LSD1 is often highly expressed in advanced metastatic prostate cancer patient samples, indicating is could be a viable therapeutic target for this patient population. While catalytic LSD1 inhibitors had minimal therapeutic effect, SP-2509 inhibited LSD1's cancer-promoting scaffolding activity, resulting in significant tumor growth inhibition in animal models (Sehrawat, A. et al., 2018).

SP-2509 has shown both single agent efficacy and synergy with the pan-HDAC inhibitor, panobinostat, in cultured and primary AML blast cells in vitro as well as in animal studies. Mechanistically, these studies demonstrate that treatment with SP-2509 may result in disassociation of LSD1 and the corepressor CoREST, lead to decreased demethylation of H3K4, and upregulation of p21, p27, and C/EBPα (Fiskus, W. et al., 2014).

Separate work shows that LSD1 can promote progression of B cell lymphomas via its scaffolding properties (Hatzi K et al., 2019). As Salarius compounds have shown the ability to more robustly inhibit LSD1's scaffolding properties compared to competitor's molecules, this demonstrates the potential for Seclidemstat's improved efficacy in this indication.

Researchers have recently found that LSD1 is among the most highly expressed histone modifiers in ovarian cancer and that small cell carcinoma of the ovary hypercalcemic type (SCCOHT) cell lines are highly sensitive to reversible LSD1 inhibition through stimulation of NF-dependent anti-tumor immunity (Soldi R et al., 2019). Data show that SP-2509 promotes ERV-mediated immune response in SCCOHT cell lines and stimulates T cell infiltration that may be a viable treatment option for this rare ovarian cancer when combining with anti-PD-1 monoclonal antibodies.

The above work builds upon the previous independent work demonstrating that LSD1 inhibition has the potential to turn immuno-suppressed ("cold") tumor microenvironments into immuno-responsive ("hot") microenvironments by silencing the expression of proteins that interfere with T cell infiltration and result in resistance to checkpoint blockade therapy (Sheng, W. et al., 2018). As such, LSD1 inhibition may be a viable therapeutic option for patients with poor response to anti-PD-1.

There is a tremendous opportunity for enhancing or reigniting sensitivity to anti-PD-1 therapy in cancers with low initial response, such as triple-negative breast cancer (TNBC). Fewer than 20% of TNBC patients respond to checkpoint inhibitors. Preclinical work in this area shows combining SP-2509 with anti-PD-1 significantly increased T cell infiltration and suppressed tumor growth and pulmonary metastasis compared to anti-PD-1 therapy alone (Qin. Y, et al., 2018). Overall, these results suggest that LSD1 inhibition may be an effective combination strategy with immunotherapy as a treatment option for poorly immunogenic breast tumors.
Targeting Ewing Sarcoma with Seclidemstat
Salarius' initial clinical focus with Seclidemstat is in Ewing Sarcoma (ES), a highly aggressive bone malignancy diagnosed in pediatric and young adolescent populations. Based on NIH data and physician opinion, Salarius estimates there are around 500 new cases of ES in the US each year. ES represents a significant unmet need where there are no approved targeted therapies. Current standard of care (SOC) is surgery, radiation, and an intensive chemotherapeutic regimen. Despite the severity of treatment protocols, the SOC is largely ineffective in patients who present with upfront metastasis (~25%) or who have localized disease and relapse (~20%). Metastatic patients have a five-year survival of only ~25%, and relapsed patients have as low as a 7% five-year survival rate depending on the timing of recurrence (Khanna, N., et al. 2017 and Van Mater, W., et al. 2019).
ES is driven by a chromosomal translocation involving the EWS gene and an ETS family transcription factor gene, with the resulting fusion protein acting as the molecular driver for tumor development (Sorensen, PH., et al., 1994). Prevention of the EWS/ETS transcription factor oncoprotein is believed to be a viable therapeutic target for the treatment of ES. In 85% of cases, the translocation occurs between EWS and the ETS gene, FLI1. The EWS/FLI1 fusion protein is an intrinsically disordered transcription factor, making it difficult to directly target. As such, targeting transcriptional co-regulators, proteins the transcription factor associates with to modulate gene expression, is more readily achievable. LSD1 functions as a transcriptional co-regulator, contributing to the silencing or activation of gene expression, through its interaction with transcription factors and chromatin modifying complexes. Additionally, independent research out of the Children's Cancer Research Institute shows that LSD1 is often over-expressed in several types of bone cancer, including ES. This suggests that LSD1 inhibition could be a viable therapeutic strategy for ES (Bennani-Baiti, I.M., et al., 2012).
Preclinical data show that treatment with a Seclidemstat analog modulates EWS/ETS transcriptional activity by selectively down-regulating tumor-associated oncogenes and up-regulating tumor-suppressor function that impede tumor growth in ES cell lines (Figure 4a, Sankar, S., et al., 2014). Recent animal model data demonstrate that Seclidemstat significantly inhibits tumor growth in disease models of Ewing sarcoma (Figure 4B).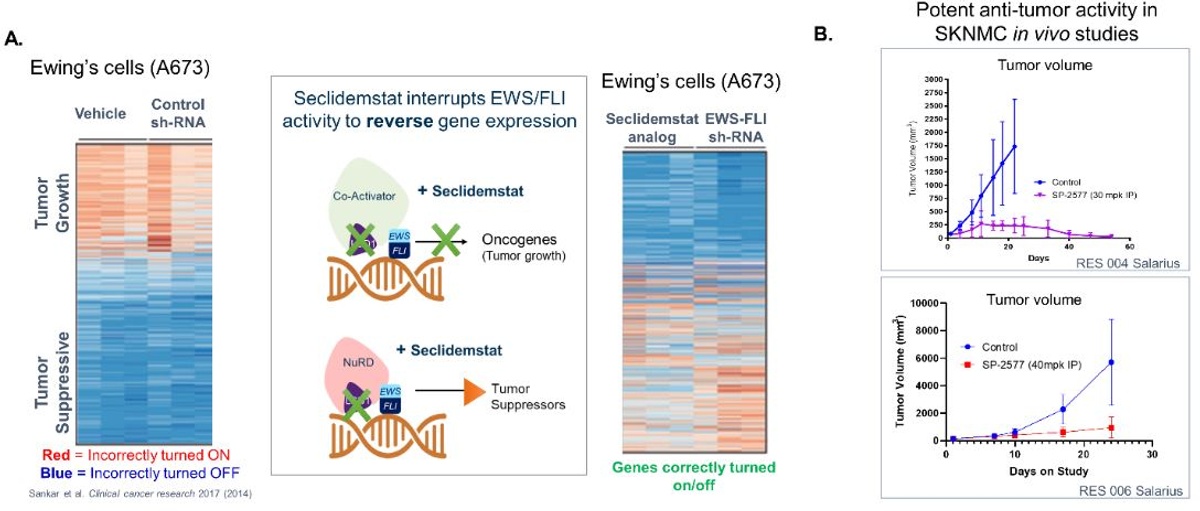 Figure 4. A. Seclidemstat analog inhibits LSD1 from associating with the oncoprotein, EWS-FLI, and therefore reverses Ewing sarcoma gene expression in a manner that mimics silencing of EWS-FLI. B. Animal models show that the group who received Seclidemstat (SP-2577) treatment had significantly reduced tumor growth compared to the control group.
Salarius is currently conducting a Phase 1/2 (NCT03600649) open-label, non-randomized dose-escalation / dose-expansion study of Seclidemstat in adolescents and young adults with relapsed or refractory Ewing sarcoma. The study is being conducted at eight centers across the United States (Figure 5). The goal of the dose-escalation part of the study is to begin qualifying the safety, tolerability, and pharmacokinetics of oral Seclidemstat dose and establish the maximum-tolerated dose (MTD). These data are expected in the first half of 2020. Following this, the company will move into the dose-expansion portion of the study where the company will gather additional safety, tolerability, and pharmacokinetic data, and evaluate Seclidemstat's anti-tumor activity. Data readouts from the dose-expansion portion are expected in 2020. Salarius' work in ES is being partially supported by a Cancer Prevention and Research Institute of Texas (CPRIT) grant of $18.7 million awarded to Salarius in May 2016, and in-kind support from the National Pediatric Cancer Foundation.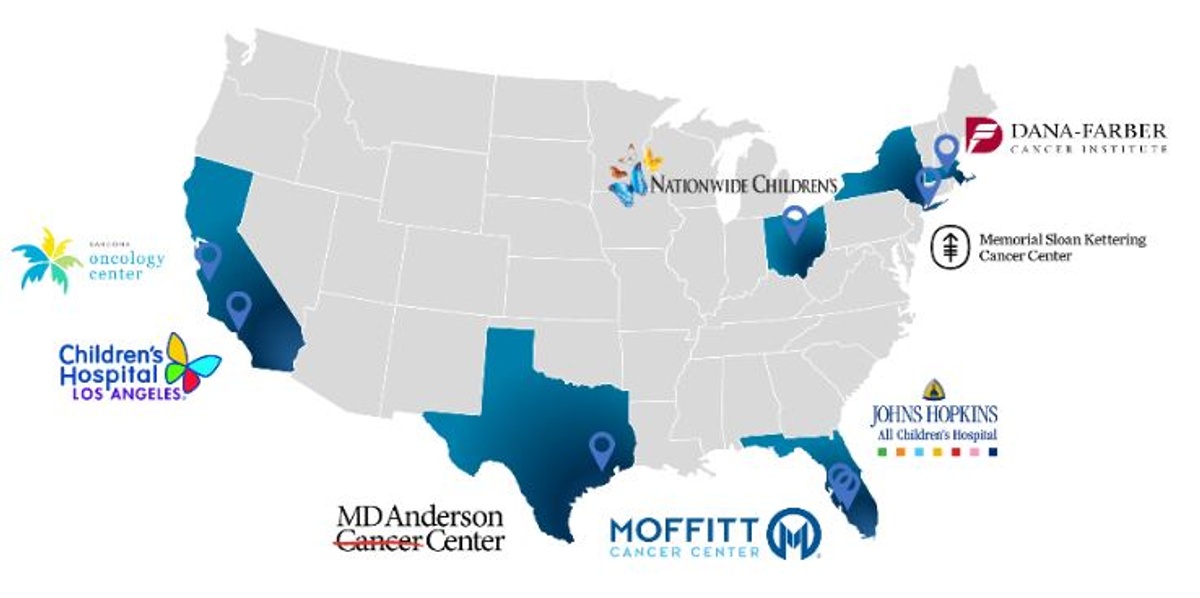 Figure 5. Sites of Salarius' clinical trial in relapsed/refractory Ewing sarcoma patients.
ES represents an attractive market opportunity for Seclidemstat because there are no standardized treatment options for patients who fail first-line standard of care therapy. Current options for these patients are limited and carry debilitating side effects. Despite the severity of the treatments, the long-term survival rate for these patients is dismal. Given the high unmet need ES presents, Seclidemstat was granted Orphan Drug and Rare Pediatric Disease (RPD) Designation by the U.S. FDA to facilitate and encourage its development process. The RPD designation qualifies the company for a possible Pediatric Priority Review Voucher (PRV) if Seclidemstat is approved. A PRV could generate over $100 million in value on the resale market once granted. Pursuing ES allows for Salarius to pursue a speed-to-market approach. Based on forecast models, Salarius believes the initial market opportunity with Seclidemstat in ES is roughly $200 million.
Seclidemstat Market Expansion by Targeting Advanced Solid Tumors
In parallel, Salarius is studying Seclidemstat in a second Phase 1 (NCT03895684) study in advanced solid tumors. This trial significantly expands Seclidemstat's potential market, as success in one or more of these indications could increase Seclidemstat's market to ~$1B or more. Clinical data validates LSD1 inhibition as a potential anti-tumor therapeutic as high levels of LSD1 correlate with poor patient prognosis in advanced cancers (Figure 6A and 6B). Seclidemstat has shown promising single-agent preclinical efficacy in triple negative breast cancer models and can be combined with other targeted agents for increased activity (Figure 6C). The Advanced Solid Tumor trial is also in the dose escalation phase and initial data readouts are expected in 2020.

Figure 6. A, B. Clinical data shows that high levels of LSD1 are associated with poorer patient prognosis. C. Seclidemstat analog shows significant single agent activity in hard to treat triple negative breast cancer animal model.
Future Opportunities
Combinatorial epigenetic strategies with immunotherapy is an exciting and emerging area with the potential to greatly expand Seclidemstat's market. Recent preclinical studies demonstrated that LSD1 inhibition has the potential to sensitize refractory patients to checkpoint inhibitors (Sheng, W., et al. 2018, and Qin, Y., et el. 2018). While checkpoint inhibitors have been incredibly successful in a subset of patients, they remain ineffective in a large portion of cancer patients (Topper, M. et al. 2019). Considering that the checkpoint inhibitor market is already a multibillion-dollar market, drugs that can be used to increases the clinical benefit of checkpoint inhibitors would see huge upswings in their market size. Importantly, recent data shows that certain mutations in chromatin modifying complexes, e.g. mutations in the SWI/SNF complex, could increase tumor sensitivity to LSD1's immunomodulatory effects (Soldi, R. et al., 2019). Salarius is currently assessing the potential of Seclidemstat to be combined with checkpoint inhibitors through preclinical studies.
As a growing biotech, Salarius is open to collaborative research opportunities to advance Seclidemstat. In August 2019 Salarius announced that it entered into a research agreement with the Ivy Brain Tumor Center at the Barrow Neurological Institute based on exciting preclinical research in glioblastoma. Salarius will be providing Seclidemstat and the Ivy Brain Center will be carrying out preclinical work to potentially advance Seclidemstat into clinic for glioblastoma. This ongoing work could further strengthen Seclidemstat's pipeline and increase its value.
Interest in Epigenetics Is Growing
There is increasing industry interest in epigenetics from both pharmaceutical companies and stockholders. This is partly attributed to epigenetic drugs getting closer to potential FDA approvals. In May 2019, Epizyme, Inc. filed a new drug application (NDA) for tazemetostat, an epigenetic inhibitor, for the treatment of metastatic or locally advanced epithelioid sarcoma not eligible for curative surgery. We believe that as epigenetic drugs continue to advance through clinical development and achieve important milestones, Salarius will receive increasing attention.
Celgene's interest in epigenetics has been growing over the past several years. In January 2019, Celgene struck a deal with privately-held Triphase for $980 million in value. The lead candidate of interest is TRPH-395, a novel small molecule epigenetic inhibitor of WDR5-associated protein complexes. In April 2015, Celgene acquired privately-held Quanticel Pharma for $100 million upfront and the potential for $385 million in backend milestones. Quanticel has a pipeline of epigenetic modifiers focused on cancer.
Other deals in this area include the acquisition of Tensha by Roche for up to $535 million ($115 million upfront + $420 million in milestones) in January 2016, the Merck-OncoEthix deal valued at $110 million upfront plus $155 million in contingent payments, and the Gilead-EpiTherapeutics deal valued at $65 million.
Conclusion
Salarius is a Nasdaq-listed public company (Ticker: SLRX) that began trading in July 2019. Salarius is focused on advancing novel drug candidates for the treatment of cancer using its knowledge and expertise in the field of epigenetics. The company's lead compound, Seclidemstat, is a novel, reversible and comprehensive LSD1 inhibitor in early-stage clinical trials for the treatment of Ewing sarcoma and advanced solid tumors. Independent and company-sponsored data support the hypothesis that targeting LSD1's enzymatic and scaffolding properties has significant potential utility in these indications. Salarius anticipates initial clinical data with Seclidemstat in 2020 (Figure 7).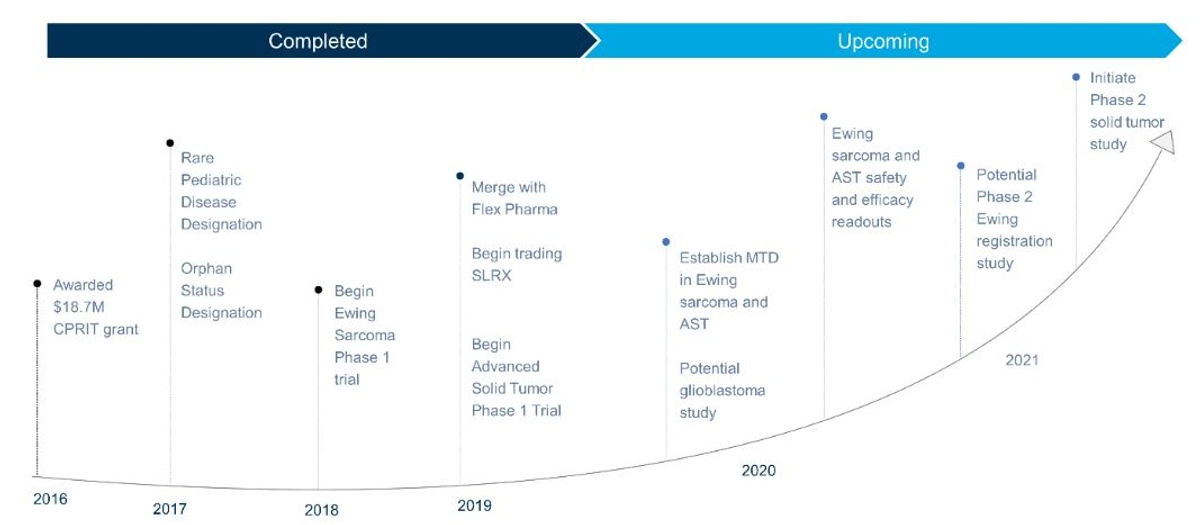 Figure 7. Salarius' completed and upcoming milestones.
Forward-Looking Statements
This document contains "forward-looking statements" within the meaning of the Private Securities Litigation Reform Act of 1995. All statements, other than statements of historical facts, included in this document are forward-looking statements. Statements that include words such as "expect," "believe," "will," "may," "might," "anticipate," "continue," "plan," "target," "estimate," "intend," "should," "can," "likely," "could," "predict," "project," "forecast," "potential," "possible" or the negative of these words or other words or expressions of similar meaning may identify forward-looking statements. Examples of such statements include, but are not limited to, statements relating to: expected timing and results of clinical studies, including the company's expectations on reaching maximum tolerated dose in the first half of 2020; the causes of increased efficacy of Seclidemstat; Seclidemstat's potential annual market size; the potential for Seclidemstat to target the epigenetic causes of cancers including prostate, breast and ovarian cancers; the likelihood of reaching important milestones in 2020; Seclidemstat being one of two clinical-stage reversible inhibitors of LSD1; Seclidemstat's estimated initial market opportunity; increasing industry interest in epigenetics and the company; the nature, strategy and focus of the company; and the development and commercial potential of any product candidates of the company. Salarius may not actually achieve the plans, carry out the intentions or meet the expectations or objectives disclosed in the forward-looking statements. You should not place undue reliance on these forward-looking statements. These statements are subject to risks and uncertainties which could cause actual results and performance to differ materially from those discussed in the forward-looking statements. These risks and uncertainties include, but are not limited to, the following: the ability of the company to raise additional capital to meet the company's business operational needs and to achieve its business objectives and strategy; the company's ability to project future capital needs and cash utilization; future clinical trial results; that the results of studies and clinical trials may not be predictive of future clinical trial results; the sufficiency of Salarius' intellectual property protection; risks related to the drug development and the regulatory approval process; and the competitive landscape and other industry-related risks. Salarius disclaims any intent or obligation to update these forward-looking statements to reflect events or circumstances that exist after the date on which they were made.