Salarius Pharmaceuticals, Inc. (Nasdaq: SLRX), a clinical-stage biotechnology company targeting cancers caused by mis-regulated gene expression, referred to as epigenetics, has announced that its chief executive officer, David Arthur, will present at the Biotech Showcase 2020 conference being held January 13-15, 2020 at the Hilton San Francisco Union Square in San Francisco, California.

During the presentation, Mr. Arthur will highlight recent corporate achievements and anticipated milestones from its clinical development pipeline, which is led by Seclidemstat, a potent reversible inhibitor of the LSD1 enzyme. Seclidemstat is currently the subject of an ongoing Phase 1/2 clinical trial in Ewing sarcoma, a rare and deadly pediatric bone cancer for which there is no approved targeted treatment. Seclidemstat is also being studied in a second Phase 1 clinical trial in advanced solid tumors (AST), including prostate, breast and ovarian cancers. Salarius recently achieved important dose escalation and trial enrollment events for each program as well as Fast Track designation from the FDA in December, positioning the company to report early patient safety and efficacy data from both clinical trials in 2020.
Details of the presentation are as follows: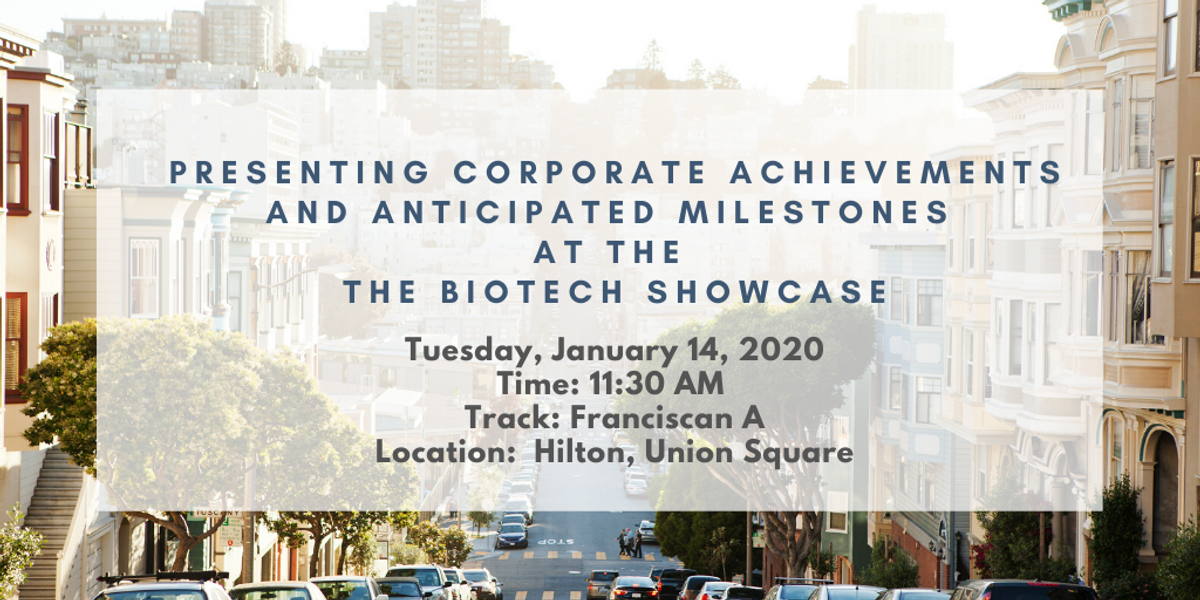 About the Company
Salarius (NASDAQ: SLRX) is a clinical-stage oncology company targeting the epigenetic causes of cancers. Salarius recently completed a reverse merger and is an exciting new public company with a differentiated lead drug candidate in the hot epigenetic space. The company's lead candidate, Seclidemstat, is a differentiated inhibitor of the LSD1 epigenetic enzyme. Seclidemstat is a more comprehensive inhibitor of LSD1's scaffolding and enzymatic properties when compared to the competition. Salarius believes that Seclidemstat's differentiated binding mechanism and location within LSD1 may lead to improved safety and efficacy compared to other LSD1-targeted therapies in clinical development.
Salarius is pursuing a speed-to-market/proof-of-concept and market expansion strategy by targeting Ewing sarcoma (Phase 1/2) and, in parallel, advanced solid tumors (Phase 1) which include prostate, breast and ovarian. Salarius expects safety and early efficacy data readouts in 2020.
Speed to Market/Proof of concept: Ewing sarcoma Phase 1/2 trial 🡪 Rare Pediatric Disease & Orphan Status Designation + Recent Fast Track designation

Market Expansion: Advanced Solid Tumor Phase 1 trial 🡪 Hormonal cancers, including prostate, breast and ovarian cancers, and sarcomas. ($1B+ markets)
In addition, recent evidence indicates that LSD1 inhibition may help sensitize immune-refractory tumors to checkpoint inhibitors. As such, Salarius is actively pursuing preclinical and clinical work in this area that represents huge value creation.
Why Meet with Salarius Now?
Salarius will have several inflection points in 2020 that offer the potential for significant upswing.
1H2020 - Reach maximum tolerated dose in both the Ewing and Advanced Solid Tumor Trials

1H2020 - Initiate additional Seclidemstat programs with high value potential (immunotherapy and hematological indications)

2H2020 - Early efficacy readouts for both the Ewing and Advanced Solid Tumor Trials
Salarius recently entered into a $10.9 million common stock purchase agreement, including a $1.0 million initial common stock purchase, with Aspire Capital Fund, LLC, a Chicago-based institutional investor to secure financial flexibility to execute on their 2020 goals
Lead clinical program supported by extensive non-dilutive capital. $18.7M Cancer Prevention and Research Institute of Texas (CPRIT) award

and receives financial support from the

National Pediatric Cancer Foundation

to advance the Ewing sarcoma clinical program. This non-dilutive funding translates directly into investment leverage.
Memorial Sloan Kettering Cancer Center (MSKCC) in New York City and Nationwide Children's Hospital (Nationwide Children's) in Columbus, OH have been added as clinical trial sites in the ongoing Phase 1/2 clinical trial of Seclidemstat for the treatment of Ewing sarcoma.
In addition, active clinical trial site locations include:

Johns Hopkins All Children's Hospital in St. Petersburg, FL;

Children's Hospital of Los Angeles in Los Angeles, CA;

Moffitt Cancer Center in Tampa, FL;

Dana-Farber Cancer Institute in Boston, MA;

MD Anderson Cancer Center in Houston, TX; and

the Sarcoma Oncology Center in Santa Monica, CA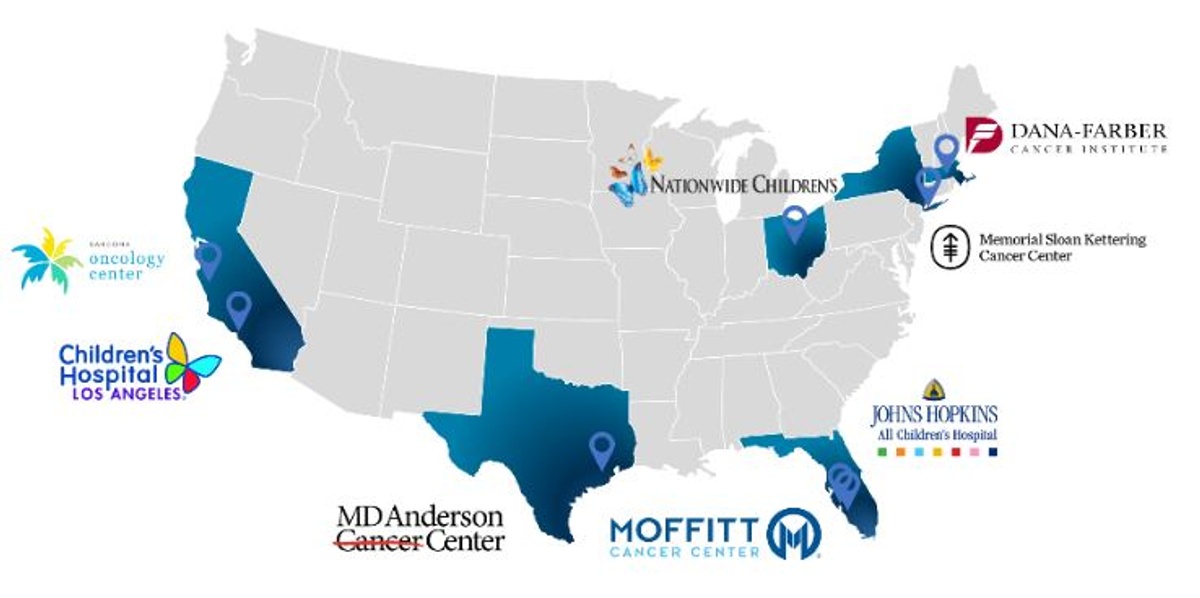 Forward-Looking Statements
This press release contains "forward-looking statements" within the meaning of the Private Securities Litigation Reform Act of 1995. All statements, other than statements of historical facts, included in this press release are forward-looking statements. These forward-looking statements may be identified by terms such as "will," "can," "believe," "plan," "allow," "expect," "provide," "able to," "position," "hope" and similar terms or expressions or the negative thereof. Examples of such statements include, but are not limited to, statements relating to the following: the company's belief that the stock purchase agreement will provide additional access to capital and financing flexibility to allow the company to continue to execute its clinical plans and further advance its lead drug candidate, Seclidemstat, creating value for its shareholders; the anticipated use of proceeds from the agreement; the company's belief that it is well funded, ultimately driving value for its shareholders; expectations regarding Aspire Capital's future hold of the company's common stock, including the timing of any sale; expectations regarding future sales to Aspire Capital under the agreement, if any; expected timing and results of clinical studies and delivery of clinical milestones in 2020, including the company's expectations on reaching maximum tolerated dose early 2020 and reporting early patient data later in the same year; Seclidemstat's potential benefits to patients and their families and the company's potential to bring hope and new treatments for patients and their families; the nature, strategy and focus of the company; and the development and commercial potential of any product candidates of the company. Salarius may not actually achieve the plans, carry out the intentions or meet the expectations or objectives disclosed in the forward-looking statements. You should not place undue reliance on these forward-looking statements. These statements are subject to risks and uncertainties which could cause actual results and performance to differ materially from those discussed in the forward-looking statements. These risks and uncertainties include, but are not limited to, the following: the ability of the company to raise additional capital to meet the company's business operational needs and to achieve its business objectives and strategy; the company's ability to project future capital needs and cash utilization; future clinical trial results; that the results of studies and clinical trials may not be predictive of future clinical trial results; the sufficiency of Salarius' intellectual property protection; risks related to the drug development and the regulatory approval process; the competitive landscape and other industry-related risks; market conditions which may impact the ability of Salarius to sell stock to Aspire Capital; the possibility of unexpected expenses or other uses of Salarius' cash resources; and other risks described in Salarius' filings with the Securities and Exchange Commission, including those under the heading "Risk Factors." The forward-looking statements contained in this press release speak only as of the date of this press release and are based on management's assumptions and estimates as of such date. Salarius disclaims any intent or obligation to update these forward- looking statements to reflect events or circumstances that exist after the date on which they were made.